What is a Raingarden?
Urbanisation has lead to an increase in stormwater runoff and subsequent increase in pollutant wash-off. It has detrimental effects on the receiving waterways. Due to this, it has become a requirement of the development to ensure the site adopts water sensitive urban design principals to reduce the pollutant wash-off from the area. With this in mind the development of raingardens has become necessary. Building a raingarden (bio retention filter) is a simple way to help the environment and the health of our local waterways by:
Filtering pollution mixed in stormwater and runoff
Resupplying groundwater by allowing clean water to slowly soak into the earth
Maintaining stream flows during summer months
Providing habitat for butterflies, birds and other creatures
Key Features:
Layers of soil for filtration
Gravel for drainage
Drought tolerant plants
Slotted Pipes beneath the soil to take away the filtered rainwater and an overflow pipe on the surface to prevent flooding, raingardens are designed to collect water from a disconnected downpipe, rainwater tank overflow or pavement runoff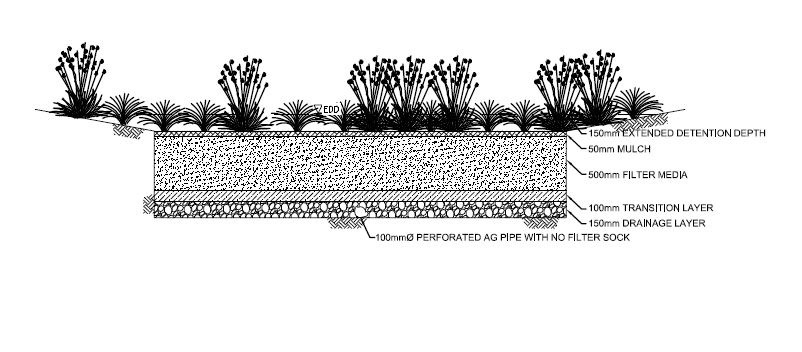 Did you know that a raingarden is only wet during and immediately after rain, leaving it dry most of the time? This is due to the drainage and filtration properties of the soil combination used in the raingarden.
At Soilworx we have been working with Architects, Developers and Landscapers since the introduction of rain gardens and bio retention systems. We have gained an excellent understanding of the products required to make your project run smoothly, on time and on budget. It is with this in mind that we offer the following tips and products which will ensure your project is completed effectively.
Tips for healthy Rain gardens and Bio Retention Filter systems
Raingardens are easy to maintain, especially those with native Australian plants; they don't need to be watered, mowed or fertilised. To make sure your raingarden functions well:
Cover it with gravel mulch to retain moisture (not fine bark or straw, as these float into the stormwater system)
Weed it until the plants have matured
Distribute water evenly to reduce erosion from heavy rain — strategically placed rocks may help
Inspect it regularly and replace plants and repair erosion when needed
Don't drive over or squash your raingarden as this reduces its ability to work effectively
If it doesn't rain, water your raingarden until your plants have established

Products required
Drainage Layer: to be a clean, fine gravel


Product Recommendations:



Transition Layer: shall be clean, well graded/coarse sand


A2 Filter Sand: Washed, well graded sand meeting VIC Road specifications
Concrete Sand: Course sand with a number of uses. When mixed through heavy soils, it can significantly improve drainage and soil structure. This sand has a large particular size and has aggregates included
Premium Washed Sand: A beautiful white, double/triple washed sand
Filter Layer: In general, the media should be a loamy sand soil with appropriately highly permeability under compaction and should be free of rubbish. The soil should contain some organic matter for increased water holding capacity but be low in nutrient content.br> Product Recommendations:

Turf Sand: sand based product with a hint of organic matter and soil. Boasting great drainage, minimal slump, and moderate organic matter
Lawn Mix: SoilWorx lawn mix is a very good recycled product made at our soil facility using materials sourced from commercial & residential sites. Blended with our secret herbs & spices, it is our most popular product
Mulch Layer: clean gravel that is screened to contain no fines.
Product Recommendations: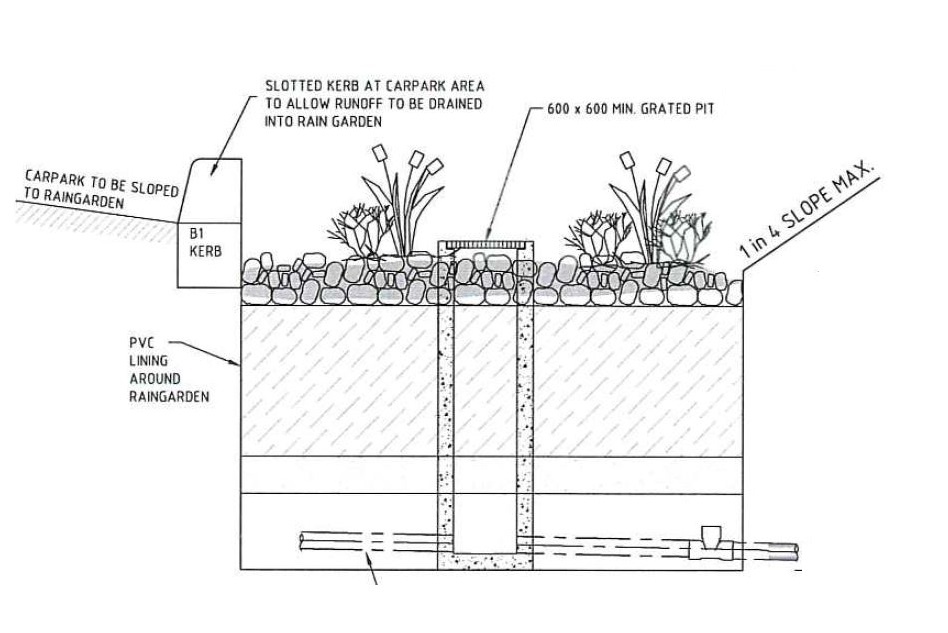 Please note: Every project is different, with some councils approving other materials which may not be listed above. If this is the case for your project, please contact us and we would be happy to source the materials required. Always remember to read your plan thoroughly and contact your architect should you have any questions.
All the above mentioned products have specification sheets available upon request.