Introducing the team of trucks that delivers more than just our goods.
At SoilWorx, we invest far too much into the quality of our products to be cutting corners in their delivery. In fact, our trucks and the professional drivers operating them are the backbone of our company. Our fleet is a carefully-selected assembly of top-of-the-line equipment, with 90% of it being made up of Kenworth's & Iszuzu's.
Ever wondered how we provide you with instant delivery location information? Our secret weapon is state-of-the-art fleet management software which is integrated into all of our trucks. This means that every vehicle has a GPS tracking system, so our transport and logistics department can deliver unrivaled customer service while our trucks deliver the goods.
Customer orders big or small, we have a truck to move them all.
SoilWorx has a variety of trucks to meet your needs and specifications, with vehicles ranging from 5m Tip trucks carrying 5m3 loads through to truck and trailers equipped to transport 25m3.
Here is a brief introduction to the SoilWorx fleet: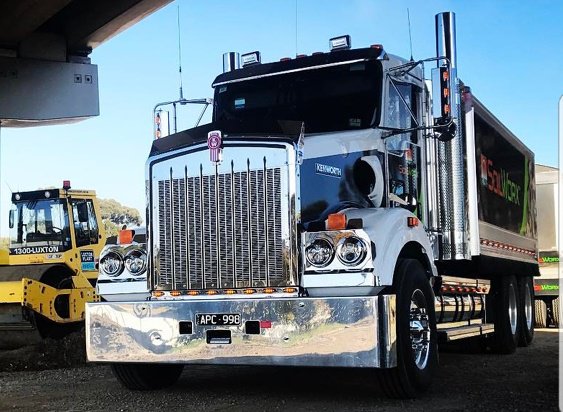 Truck & Trailers
These "big boys" are designed to go the distance. Our trucks and trailers are perfect for large quantities and longer travel times. Your experienced SoilWorx driver will ensure you get the most out of the vehicle, so all you need to do is make room for the delivery. If you're not sure whether your site adequately meets truck and trailer access requirements, SoilWorx will send a consultant to assess your site on request.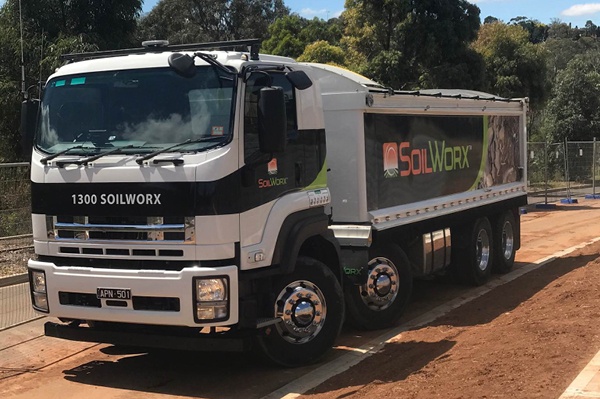 Twin Steer
The newest and most intriguing member of the family, the Twin Steer lets you "have your cake and eat it too". It handles just like a single steer axle and isn't intimidated by the big boys. In fact, it acts as a middle-man between tandem tippers and truck & trailers, making it ideal for medium to large projects that require transporting large loads to sites with limited space.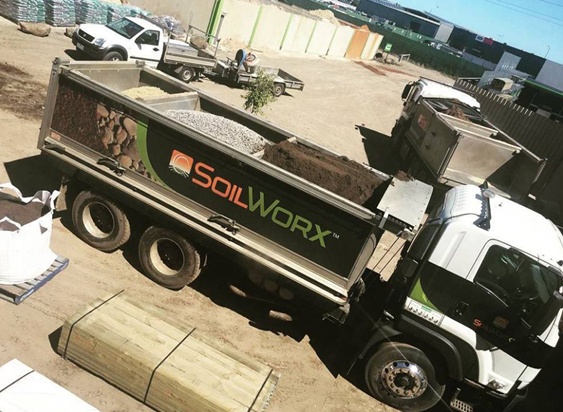 Tandem Tipper -8m, 12m & 15m
You can't go wrong with a classic and the Tandem Tipper is a reliable, stable and strong truck that stands the test of time. These vehicles are made of tough stuff- featuring steel and aluminum bodies and a sturdy construction that is great for small, medium and large projects. Some even have 3 compartments so you can take advantage of split loading your order!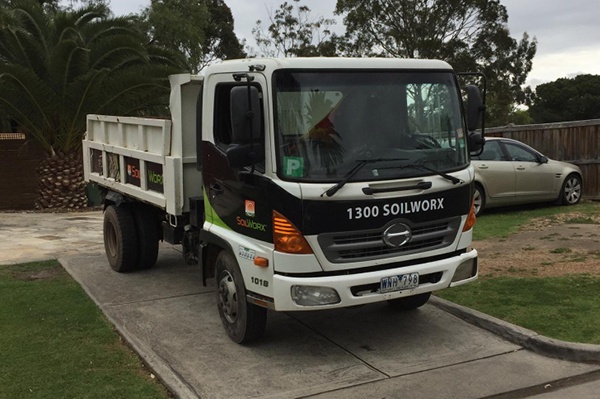 5m Small Tipper
Don't be fooled by its size, this vehicle is truly "The Little Engine that could". Compact, nimble and narrow, the 5m Tipper will tuck itself into small and tight access sites ensuring that your order is delivered as close to the optimal offloading point as possible. If you need this vehicle, remember to request a small truck when placing your order. L 5.7Mtr x W 2.8Mtr x H 2.8Mtr
As our business grows, so does our fleet and its features, so make sure you stay tuned to read more about our latest transport innovations. If you'd like to learn more about our fleet and how to select the best vehicle for your project, contact SoilWorx.