3 Commonly Used Garden Styles
Before rushing out to buy plants for your garden, you will need to first decide on the garden style. The style you choose will determine a part of the design structure and also the range of plants to use.
Here, we've picked out 3 of the more commonly used garden styles to get you started.
Formal
A formal garden is typically defined with a clear structure, geometric shapes and generally speaking, a symmetrical layout featuring lush green foliage plants and white plants.
When creating your formal garden, it is a good idea to start with a focal point such as a fountain or garden sculpture. Then you can move on to adding in hedges to create borders and paths making sure the design is symmetrical and that the pattern and shapes matches up with the other side of the focal point. You can then fill the open spaces with gravel or paved walkways.
Here are a few elements of a formal garden to get you started:
Focal Point: start with a focal point placed in the center of the garden.
Symmetry: Paths, plants, shapes and garden beds on either side of the focal point should be a mirror image of each other so if you have created a round garden bed on one side, you will need to have the same on the order side in the same position.
Repetition is key. Decide on your patterns, plants and trees of choice and use them through out the design. This will give your garden a sense of rhythm and balance.
Geometric shapes: focus on circles, squares and triangles.
Straight Paths: Straight lines pull everything together and direct you to a specfic point, Direct your path to your focal for increased impact.
Borders: use hedges and shrubs to create a border around your garden beds and paths, this will also give structure to your garden.
Colour: formal gardens typically use a limited colour palette. Less is more. Generally, these gardens are dominated with greenery and splashes of white flowers.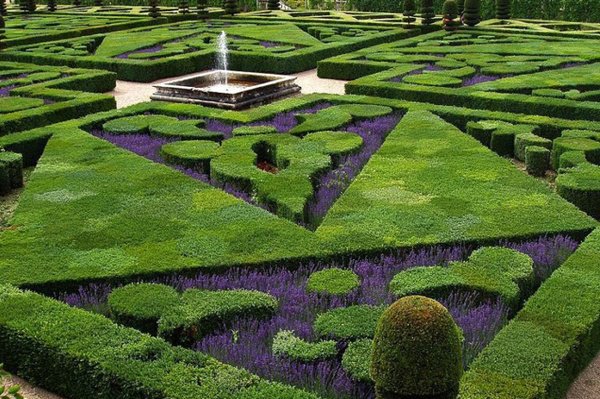 Tropical
Bring the tropics to your back yard with a tropical garden.
Exotic, dense, lush green foliage, flashes of bold colour. This is the feel you are trying to create with this style of garden. The key is in the plants, go big, bold and colourful!
Put these elements together and bring the resort to you:
Colour: Tropical gardens often boasts brightly coloured foliage. For maximum impact, group plants with red, yellow, pink, and purple leaves.
Foliage: Go big! Choose plants with distinctive foliage. Go with the flamboyant and colourful. Give some thought to the size and shape of its leaves.
Layering: Plant in layers to achieve the full lush look of the tropics. Start with trees overhead to create a canopy then flowers and foliage to ground covers. Bamboos and palms are popular choices in creating the tropical look. The key is to plant densely.
Water: Water is a classic feature to a tropical garden, add a water feature or create a water garden to tie everything in.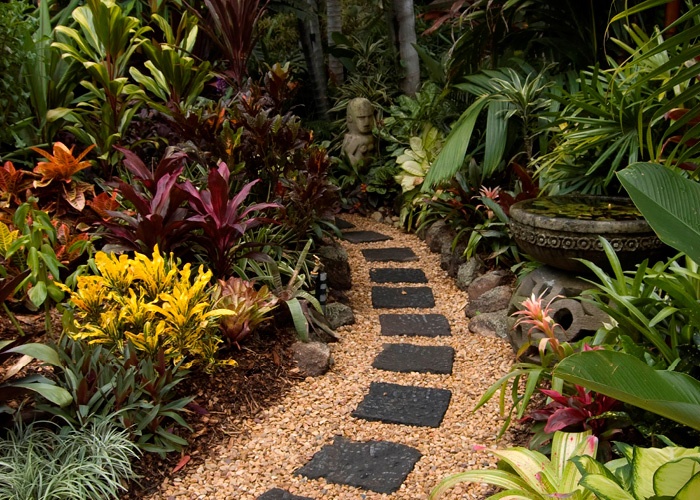 Cottage
The cottage garden can be distinguished by its informal design, traditional materials, dense plantings, and a combination of ornamental and edible plants.
Use these elements of the cottage garden to bring grace and charm to your home:
Informal design: Stay away from clean straight lines and structure.
Close planting: Plant closer than normal so that plants can weave together and the soil is hidden behind a mass of plants.
Plant close to the house: At least one flower bed should be up against the wall of the house. Climbers and creepers are good here to soften up the look of the wall.
Classic plants: Go for plants that you would generally find in your grandmothers garden. Popular choices include herbs, roses, geraniums, lavender and peonies.
Colour: There's no rule when it comes to this style, you can incorporate every colour of the rainbow or go for a more sophisticated limited colour palette
Fence it in: A front fence neatens up the look of the organised chaos of a typical cottage garden.