Trade Partner: Eco Design Landscapes
As a young teenager, Nic had demonstrated his flair for entrepreneurship building up small businesses and selling them off for a small profit, a trait that is rarely seen in people of that age. Having grown up on a farm, Nic had enjoyed his time working outdoors in the elements and decided pursue a career in landscaping. That was 20 years ago and today we can see the fruits of his labour and hardwork through Eco Design Landscapes and Landscape Melbourne.
We caught up with Nic to find out more about the background and how Eco Design Landscapes came to be:
Q. Give us a some background on yourself and the company.
A. As a kid, I've always studied businesses. I'd look up small businesses, build them up and then sold them off. This started when I was a teenager running a pet care business looking after peoples pets when they went away on holiday, eventually I was offered a chance to sell and thought, this is a great way to make money!
Having grown up on a farm, I've been accustomed to working outdoors in the elements, tending to animals and doing farmwork. Naturally, I chose to go down the landscaping path, it was all things outdoors, perfect! You work outdoors, see results of your labour , make people happy and giving them something that will be in their lives for the next 30 years.
At uni I studied part time in Horticulture and Management and at the same time scoped out landscaping companies for opportunities and started an apprenticeship. 3 years later it was time to go off on my own and I started up Landscape Melbourne installing landscapes and doing all things maintenance.
I've been in the landscaping game for over 20 years now and between Landscape Melbourne and Eco Design Landscapes we are a one stop shop for all your landscaping needs. We do all sorts of jobs related to landscaping: commercial/residential, simple little jobs , sprucing up the front yard, brand new front and back landscaping, anything landscaping really.
Q. Whats your specialty?
A. There's not really one thing we specialise in, the specialty at the moment I would say is paving, we've been doing alot of that lately but really we spec liaise in all things landscaping.
One thing we are really good at is communication. We need to make sure the client gets their ideas and expectations across accurately and at the same time we need to manage their expectations. The hardest thing is that people generally don't understand how involved landscaping can be and often expect the world, this is where the communication comes in. We provide advice about design, materials, budget and realistic long term results.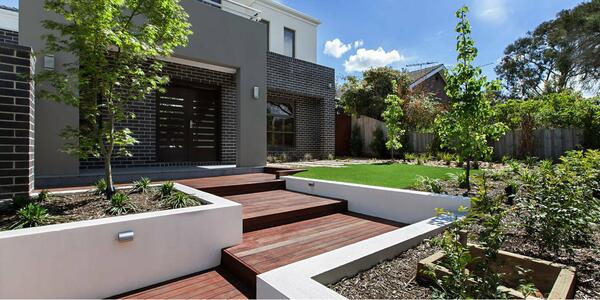 Q. Why did you choose this industry?
A. It's just a great job. You work outside and enjoy the weather. It's not always fun and games though, when it's scorching hot in summer you're covered in sweat and dirt and then in winter you look like a drowned rat, but the fact of the matter is that you get the reward in seeing what you built and seeing the joy in peoples faces. We had one client say to us:
"Look at what you've done with this!
You guys should be wearing your underpants on the outside,
you are absolute superheroes!"
It just gives you a great sense of achievement.
Q. What does an average day involve?
A. Everyday is different, I'm really living the dream. To keep it simple an average day would look something like this:
4am start with paperwork
make sure the ute is packed with all the tools needed for the day
touch base with the supervisor making sure everything is on track
liaising with suppliers regarding deliveries
planning ahead for the rest of the week in terms of supplies and labour
then its off to site and hard labour for the rest of the day finishing anywhere between 4 and 6pm
dinner with the kids and then back to the office for more paperwork
It's really long days.
Q. What's the best part of the job?
A. Definitely the people and talking their ears off. No, really its the work, you get to see the end results fairly quickly even on the larger scale jobs. It's daily progress and the satisfaction of seeing everything come together. At the end of the job its just very rewarding just seeing everyone's faces light up and hearing "wow, this is awesome" is a real buzz.
Q. Worst part of the job?
A. Working outdoors is a plus of the job but very quickly can be the most frustrating part. The weather can blow out a 3 hour job to 6-7 hours, you lose days of productivity and sometimes deadlines are not met. Most of the time people understand that these things are out of our control, but sometimes not so much.
Q. Advice for others looking to get into the industry?
A. Put in the hard yards, find a mentor, you'll have to work for ordinary wages initially and do whatever it takes to gain experience. There's alot involved in running a business, it's more than just hands on tools, it's invoicing, paperwork, accounts, quotes, and liasing with customers and suppliers. It's not all glamour.
You have to be persistent. Initially, you'll have knockbacks, you might find that you spend all this time talking to a customer, measuring up a site, sourcing supplies etc to find that they have decided to go with a different company.
"It all comes down to your mindset, you need to persevere and be prepared to work long hours early on."
Don't be intimidated by the other landscapers, there's so much work out there that if you are any good you'll do ok.
Lastly, don't be afraid to talk or ask questions. The only dumb question is the one you don't ask.
Q. What type of projects are you working on?
There are a few on the go at the moment, a couple residential jobs doing paving, redesiging and decking. We've also just completed a commercial job in Heidelberg installing retaining walls, garden beds, paving, watering system and turf.
We've also partnered up with a few landscape architects where the clients will come to us with their design for further advice, quotes and installation which is quite exciting.
Q. What areas do you service?
A. We travel around most of Melbourne, not so much in the South East due to the travel time but we have jobs in the Inner East, North ,West, and Geelong. We're not saying that we wont travel to the South East, if the job is big enough to warrant the travel we will definitely be there.
Q. Types of customers you deal with?
A. I don't think we can pinpoint our customers to one single demographic. Anyone with a house is a potential customer. Our customer base includes your mums and dads, single parents, developers, builders, restaurants, industrial estates etc. Keeps you on your toes when you never know what you will get.
Q. The most interesting project you have ever worked on?
A. Just one? There's a few I suppose. I guess my strength is not being able to following instructions hahaha.
When I lived in Canberra doing my studies, the Parliament house had pulled up their plumbing and needed their landscaping reinstated. They needed new turf, garden beds, paving and simple retaining walls done. I got to see what goes on behind those wall and the politicians walking around doing their daily business.
There was also this time a few years ago where we won a tender to work on a resort Thailand. It was like being on holiday and being paid for it! They paid to fly us up and everything so that was nice.
You find that in most jobs there little things that you remember. It's a different sense of achievement you get with each project. Every job has highlights.
Q. Describe SoilWorx in 3 words
A. Cooperative, efficient, reliable
To find out more about Eco Design Landscapes and the services they offer visit their website or their facebook page.

Want to be featured in our next Trade Partner post? Sign up up to our SoilWorx Trade Program!