DIY Retaining Wall Guide
Concrete retaining wall blocks are easy to install and ideal for building soil retaining walls, reclaiming sloped land, reducing erosion and even creating feature garden walls, planter boxes and veggie patches. Concrete masonry is durable, hard wearing and not prone to rotting which means you will have a long lasting wall.
Adbri's retaining wall range is so easy to install, you can transform your backyard in just a weekend! Before you get started, make sure you do your research to make sure the job only needs to be done once. To help you out, we've put together an all you need to know guide to retaining walls.
BEFORE YOU START
The most important part of the project is planning, as they say, if you don't plan, you plan to fail so don't skip this step.
Sketch a plan of what you would like to construct
Take accurate measurements of the area and mark them on your plan, this will make it easier to work out how many blocks you need to order. It's also advisable to order 5% more than you need to cater for any breakages
Choose your blocks. Keep in mind that different blocks will be better suited to different projects.
Choose a colour and texture that will complement the surroundings of your project
If your project is over 1m high, double check with council as you may need approval. Walls that are near buildings, driveways, where large amounts of water or stormwater can build up generally need expert assistance. When in doubt always check with your local council to avoid any nasty surprises in the future.
Equipment Required
Tools
Wheelbarrow
Measuring Tape
Compactor
Caulking Gun
Stringline
Timber Stakes
Shovel/Spade
Rubber Mallet
Hammer & Bolster
Safety Glasses
Spirit Level
Broom<
MATERIALS
Construction adhesive
Marking spray paint
IT'S ALL IN THE PREPARATION
The footing is the most important part of your wall. Poor preparation may result in an unstable wall so before starting any blocking project, make sure the base is prepared correctly. Take the extra time to get the preparation right, if you start level, you'll finish level.
Before excavating, decide what sort of footing /base will best suit your project. When it comes to the footing/base, there are 3 choices: a concrete foundation, a compacted crushed rock base or a Torpedo™ block base.
Compacted Roadbase Footing
Compacted road base is most often used for standard gravity retaining walls.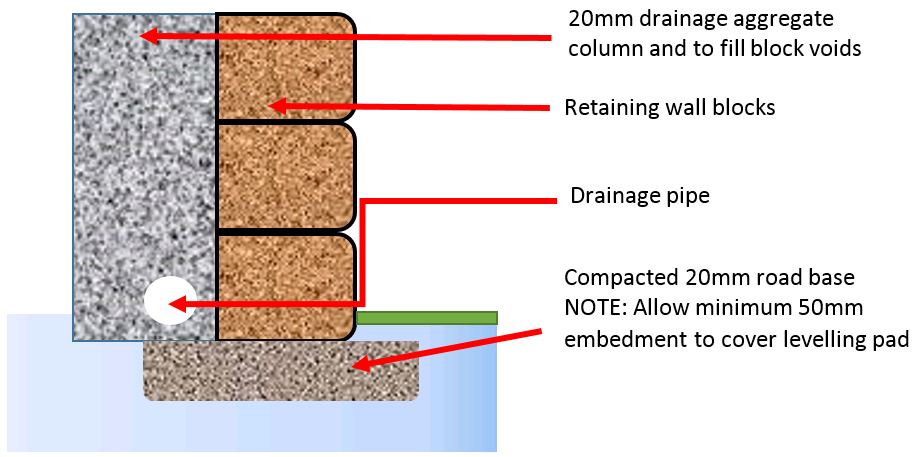 Spread the 20mm Road Base into the trench. Keep in mind that the depth of the road base will depend on the height of your wall. It may be as deep as 450mm.
Compact the Road Base with the compactor making it as level as possible
Concrete Leveling Pad Footing
A concrete foundation would usually be used where soil conditions are poor or when exceeding the maximum unreinforced wall heights with an engineered design.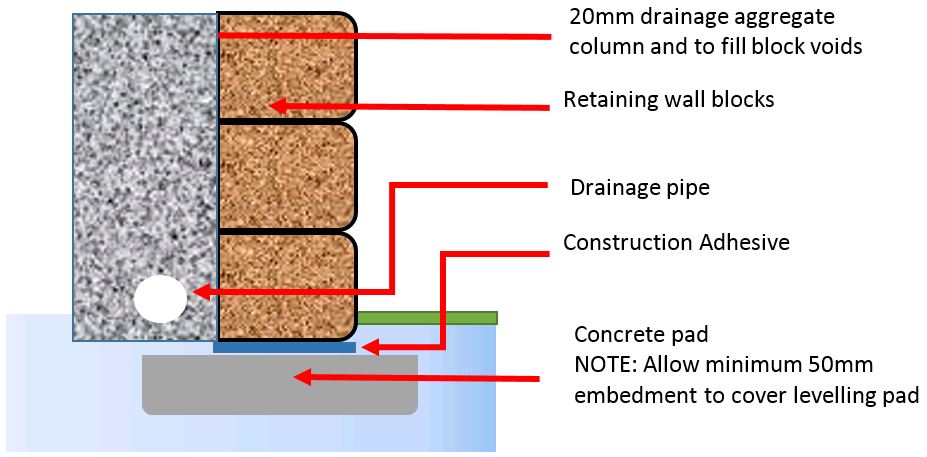 When making a concrete pad, it is best to pour your concrete in one go. If the pad is poured in stages, left to partially or fully dry between pours, the concrete may crack at the join. A cracked base may cause stability issues in the future.
The depth of your concrete pad is dependent on the height of your wall and may be as deep as 450mm and require steel trench mesh for reinforcing.
Torpedo Base Block Footing
The Torpedo™ Base Block is best suited to DIY projects as it is the quickest and easiest to way to create a level foundation.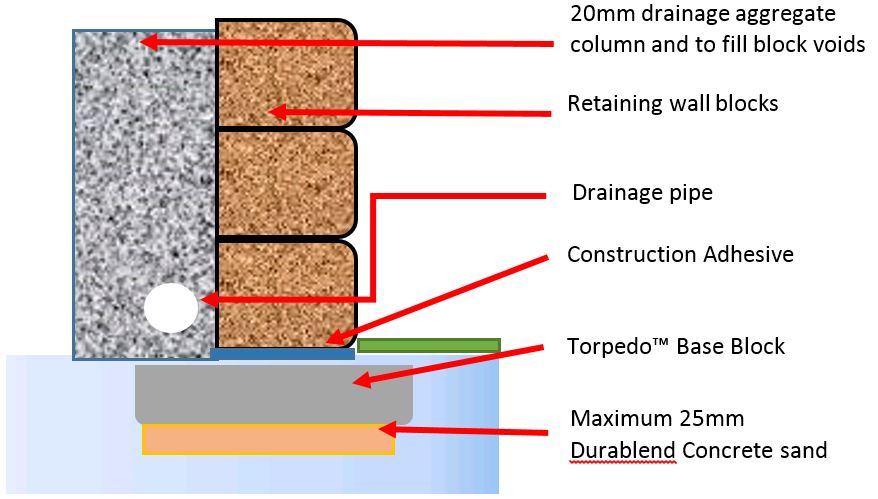 Put down a layer of Durablend Concrete sand to a maximum of 25mm depth and level it off
Place the first Torpedo™ Base Block down. Using a rubber mallet and spirit level, tap the base block into position and make sure that it is level. Continue until your foundation is laid
The first course of blocks will need to be secured to the base blocks with construction Glue.
Once you have decided on the type of foundation that suits your project it is time to begin
DIY INSTALLATION
Step 1: Marking Out
Using the marking spray paint, mark out the area where your wall will be installed. This will be your guide for when you start digging.
Step 2: Excavation
Before any excavation, make sure you call 'Dial before Dig' on 1100
Dig out your trench for the footings
Remember, the depth of your foundation will depend on the finished height of your wall. For small walls that are 1 or 2 rows high, dig the trench to a depth of approx. 100mm. To ensure adequate support and stability of your wall, the higher the wall, the deeper the foundation needs to be.
The width of your foundations should also be excavated to at least double the width of your block.
Step 3: Construct your foundation
As per the diagrams above, lay your footing/base.
Take your time in this step and make sure to get it right. A good level base will make it easier when you go to lay your blocks.
Step 4: Laying the first course
Lay the blocks tightly side by side ensuring they are level both side to side and front to back. Use the rubber mallet and spirit level to tap the blocks in place and check it's position
If you have sloping land, start at the lowest point in your wall, if you have flat land, we would recommend that you start at the most visual point
To make sure your first row is straight and level, you will need to mark out where the wall is going. For straight walls, use a stringline or a hose for curved walls
Step 5: Infill and backfill blocks
Step 6: Drainage
Drainage is important in building retaining walls as it directs the water away from your wall

Lay a 65mm – 100mm Sock covered aggi pipe behind the first course of blocks

Backfill behind the wall with a 14-20mm drainage scoria covering the aggi pipe
Step 7: Lay the remaining courses
Brush off any

debri from the top of the first row and begin laying your subsequent rows

Use your spirit level to regularly check that your wall is straight on both the face of the wall and the top

Remember to infill and backfill as you go
Step 8: Capping
Some varieties of the retaining wall system have capping. If your choice of block has capping, it will need to be secured down with a construction glue.
Visit our website to order your blocks and get that weekend project started!